By Michael Barajas

Violence erupted once again in Jerusalem's Old City on Sunday as Israeli police stormed the Temple Mount to chase off violent Palestinian protesters. This is the second time this month that Israel has dispatched a heavy police force to quell violence in the Old City, heightening tensions all over Jerusalem.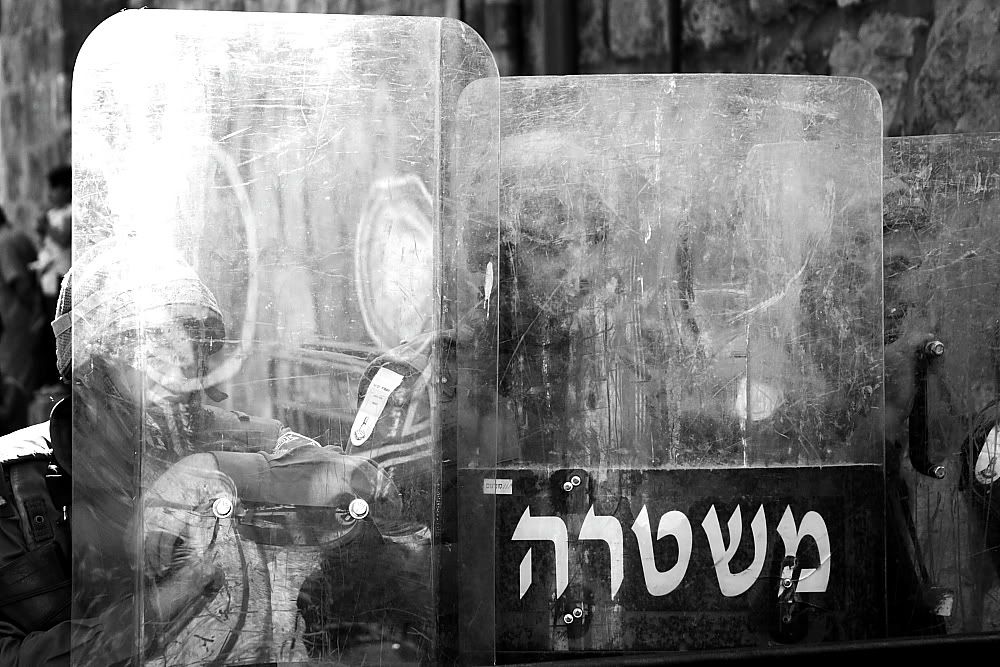 This latest outburst seemed to be set off by a swath of rumors started by Muslim leaders in the north and East Jerusalem - that extremist Jewish groups were planning on taking over the Temple Mount (what Muslims refer to as "The Noble Sanctuary" which houses the Dome of the Rock and the Al-Aqsa mosque). Of course, nothing supports those claims.

Masked Palestinian protesters began gathering on the Temple Mount early Sunday morning, claiming they were "defending Al-Aqsa" against invading Jewish forces. Eventually they began throwing rocks and petrol bombs at Israeli police. By the end of the day, 18 Palestinians were arrested, 25 were injured, and hundreds remained holed up inside the Al-Aqsa mosque.

The Temple Mount is one of the holiest sites for both Jews and Muslims. In the past, clashes in and near the Old City have sparked serious, prolonged violence. Click here to read the AP story about this most recent round of clashes.




I showed up to report from the Old City between waves of violence that morning - the more serious clashes seemed to go off around 9 am and 10:30 am.

Right after entering through Lions' Gate, which leads straight into the Muslim Quarter and the ramp up to Al-Aqsa, I saw Israeli police set up a barrier behind me. Within minutes, I saw Palestinian men and women lining up, trying to enter the Old City for midday prayers to no avail.

To one side, Israeli police donning helmets and Plexiglas shields set up a barrier in front of the entrance to the Temple Mount. Palestinian women were screaming, crying and begging to be let in. I heard one yelling that her son was inside - she said he was young and probably scared.

At the same moment, rocks and glass bottles rained down on Israeli Police yards away as young Palestinian boys darted in and out of alleyways throwing whatever they could. One boy ducked behind a shopping cart filled with rubble, occasionally standing up to launch stones as big as his fist. Police fired stun-grenades down the small alleys trying to disperse the protesters. A local Palestinian woman told me, "This is what happens when peace-talks end."

By this time, more and more older Palestinian men and women had gathered in the street, trying to get to Al-Aqsa. Somewhat arbitrarily, Israeli police would get behind them and form a line, pushing them forward through the gate. It was difficult not to get caught in the middle.




Just before noon, the group of Palestinian men that remained near the Al-Aqsa ramp began to form two lines. I immediately knew what they were doing. The men closed their eyes and began to pray, while Israeli police stood behind their shields chatting and occasionally taking drags off their cigarettes. Shock-grenades continued to ring out through the streets.




Michael Barajas is a recent Scripps graduate. He is currently interning with the Associated Press in Jerusalem, Israel. To visit his portfolio website, go to: www.michaelsbarajas.com

Images and content copyright Michael Barajas