By Michael Barajas




Wednesday the Israeli navy seized a ship carrying an enormous illegal weapons cache off the coast of Cyprus. The Israelis claim they have shipping documents showing the weapons were sent from Iran to arm the Islamic militant group Hezbollah in the south of Lebanon.

I was lucky enought to spend most of the day reporting from the southern Israeli port of Ashdod, where the army brought the ship. The military walk me around the nearby dock where they had lined up row after row of shipping containers, their contents spilling out onto the pavement revealing the hundreds boxes of rockets, grenades and other munitions. The stash contained hundreds of the same type of the rockets Hamas and Hezbollah have used to attack Israel in the past.




The Israelis are calling this the smoking gun that proves Iran's determination to arm militant groups that continue to threaten the Jewish state - Hezbollah in Lebanon and Hamas in the Gaza Strip.

All of this comes at a time when Israel is under fire for its conduct in last year's harsh Gaza offensive, with a U.N. report accusing the country of war crimes for deliberately targeting Palestinian civilians. Israel says the report's claims are outrageous and that it debases Israel's right to self-defense.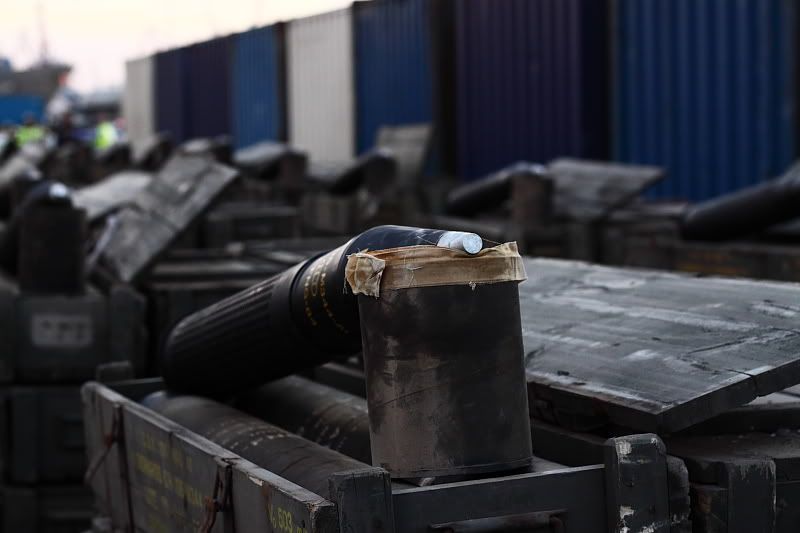 Israeli politicians and experts explained to me today that Israel is sure to use this incident for its benefit, shifting the focus to Iran - to which Israel insists the international community needs to take a more hard-line stance - and drawing attention away from the damning U.N. report.

Showing that it plans to fully publicize the incident, Israel has already invited swaths of foreign ambassadors to tour the weapons stockpile, which is both stunning and unsettling to see first-hand.




Read the story here.

Michael Barajas is a recent Scripps graduate. He is currently interning with the Associated Press in Jerusalem, Israel. To visit his portfolio website, go to: www.michaelsbarajas.com

Images and content copyright Michael Barajas