Produced & edited by:
Michelle Michael
It is noon in New Delhi. Around 20 million people are buzzing around the working city. Madhavi Issar sits at her desk in a high-rise building amid the swarm and listens to the bustle in the streets.
Madhavi was not born in the National Capital Region, or any other tier-one city. She was a migrant worker, someone who moves from one location to another in search of work.

She uprooted herself in search of what all migrants wish for: a better life.
Crowded streets of New Delhi. Photo Courtesy: Ryan via flickr
Within India, migration to tier-one cities is common among young citizens, bringing about change and strain to the country. As these workers move out of low-income areas to high-income cities, they perpetuate the wealth gap between the rich and poor. They also push these cities to instability. These cities cannot support the millions migrating, both in housing and jobopportunities.
Madhavi's story begins in Punjab, the food bowl of India. When her father passed she got married young and joined her husband's family in the tea gardens of West Bengal. Here she had a large bungalow and many servants; but life was far from perfect. After her daughter was born, she and her husband quickly realized they needed to relocate.
"Political instability forced us to leave," she says, mentioning the high risk of terrorist attacks that came with the region. This being the driving factor, she and her family left all that they knew in search of a city that was better off politically, financially, economically, and scholastically.
"It was for the better," she says thinking of the move to New Delhi. "But was it easy? No. It wasn't easy." Madhavi believes they were able to get by—thanks to help from family and their will to work hard and learn as much as possible.
"Every human being is wired to become better, be more [and] become stronger," she says. "Resilience is required."
Now working as the Head of the Leadership Academy at Hindustan Computers Limited in New Delhi, Madhavi looks for these strong leadership traits in her employees. Even at home, she notices that her maids strive to learn and do more around the house.
Another migrant to New Delhi is Ekta Khanna, born in Bhopal. She works as a Talent Acquisition Leader, a similar position to Madhavi but with a different company. She says her life is "like a roller coaster ride—non-stop."
While both of these women came to the capital with skills and a good education, many migrants do not. In fact, about five million people are continuously migrating in and out of the tier-one city of Mumbai. They come with little to no skill or education and look for jobs such as physical laborers before returning home for harvest. Madhavi says the difference in these types of migrants is that, "the non-skilled come only for money, and the skilled come for career growth and growth in life."
Two Categories of Migrant Workers
Chief Financial Officer of New Delhi branch of Fidelity, Pawan Tayla, describes the differing types of migrant workers by placing them in two categories. The first category is migrants who are moving from rural areas to urban ones. "About 65-70 percent [of India] is rural area," he says, "[and] in those areas, the only occupation is agriculture." As the younger generation grows older, many of them do not want agricultural jobs, choosing to migrate to the city. "They are daily wage workers," he says, mostly working in construction or manufacturing.
The second category of migrant workers, according to Tayla, are those who move from tier-two and tier-three cities to tier-one. These migrants find differing levels of work depending on the extent of their education.
Managing the Crowd
Ashish Garg, a New Delhi native, has a positive outlook on the mass migration of people in India. He says, "It is not a problem… millions of people migrate." He likes that people in New Delhi come from everywhere, whether it be within the country or outside. He continues, "I think it is similar to the United States."
For the most part, this is true. Even in the United States, people move to wherever they feel they can find work, making them migrant workers. The issue is the sheer amount of people migrating within India and there is little migration out of these cities. It is important to remember that India is second in population only to China and the country is not even half that size.
This means that the millions of citizens who migrate to tier-one cities are overpopulating them, limiting housing and job options. "Yeah I think it's getting crowded," Khanna says with a laugh, "there's a race to everything… you're just chasing each other."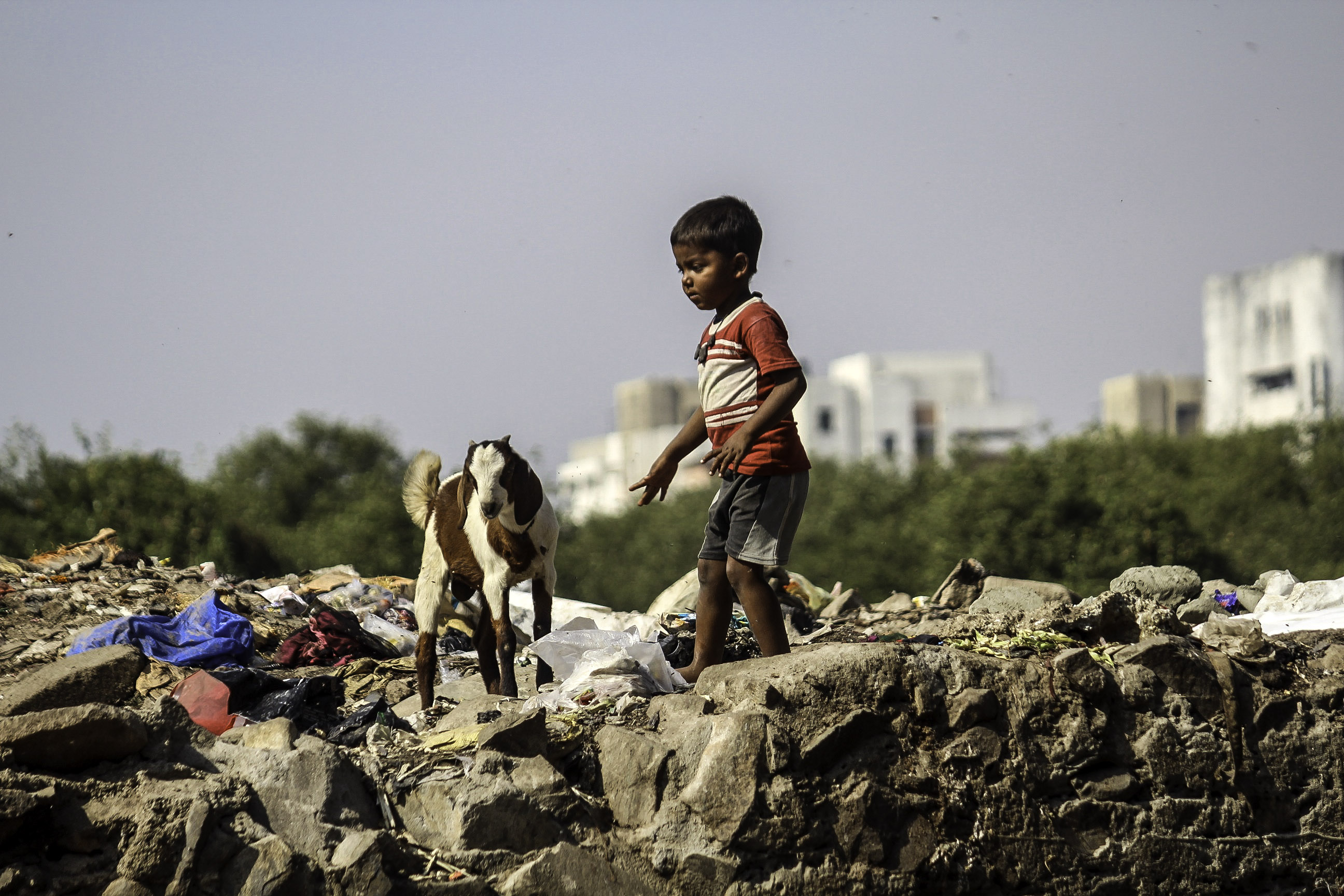 A small boy and a goat near a garbage dump in New Delhi.
Photo courtesy: goodfreephotos.com
Gurprriet Singh, who works for Korn Ferry Hay in Mumbai, says many migrant workers "live in almost shanty towns." They have shed toilets and sometimes no bathroom at all. Other migrants who find factory jobs are generally provided "hostile-style accommodations and maybe six people to a room on bunk beds." The main problem with this is the humanitarian question of whether these people deserve to live like this. Hygiene is another concern this type of living raises. "It doesn't just affect them," Singh says, as this lack of sanitation causes health issues for the entire city.
Tayla voices the solution most Indians see for the problem: "if we can have more consistent employment opportunities across the country, then we can contain migration and pressure on tier-one cities."
Madhavi agrees with this solution. She says, "instead of burdening a piece of land with so many people, it should be spread out."
No matter what conclusion the government finds, Madhavi says, "it's very important for leaders to think long term."
**Global Spotlight
is a
nonprofit educational production
, constituting a
'fair use'
of any such copyrighted material as provided under Section 107 of the U.S. Copyright Law.